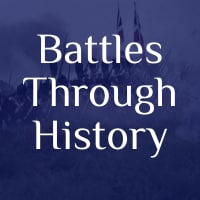 Battles Through History is the new Multi period living history show you simply MUST get to in 2024!
Set in 150 acres at the South of England Showground, this show is set to be the Last Hurrah of the summer season. Not only a great day out for families and friends, but fabulous for all those that participate.
There will be Living History, Military Vehicles, Wargamers, Modelmakers, a Vintage Village, Traders in all things of all eras. Museum quality exhibitors, hands on history for the children to get involved with and battles – many, many battles!
If you want to see Knights in full combat mode, they are ready and willing to thrash seven bells out of each other for your enjoyment.
If you want to see a WW2 skirmish, then the arena awaits you, with a grandstand overlooking it for the best views. There will be battles in the main arena throughout the day and within the living history areas too. Take a walk-through History with the living history re-enactors that are waiting to tell you all about what they do, with demonstrations, and full public interaction. From ancient Rome to Modern day warfare, the show has it covered!
There will be numerous military vehicles on site, check in the programme for a tick list to make sure you see them all. Have a chat with the owners, discover the history, take a photo. There will be helicopters arriving over the weekend so make sure you look to the skies and then go and have a chat and an explore of them.
There will be wargamers with full displays and items to buy in the Norfolk Pavilion, if you want some retail therapy there will be traders waiting to fulfil your every need in the Vintage Village, the Military Zone and in the Jubilee Hall!
For refreshments you can relax in the Vintage Café with a slice of cake and a cup of tea or have a drink at one of the two bars on site. A great assortment of food stands will also be on site.
Plus, there will be evening entertainment from two fabulous bands for those that want the full weekend experience!