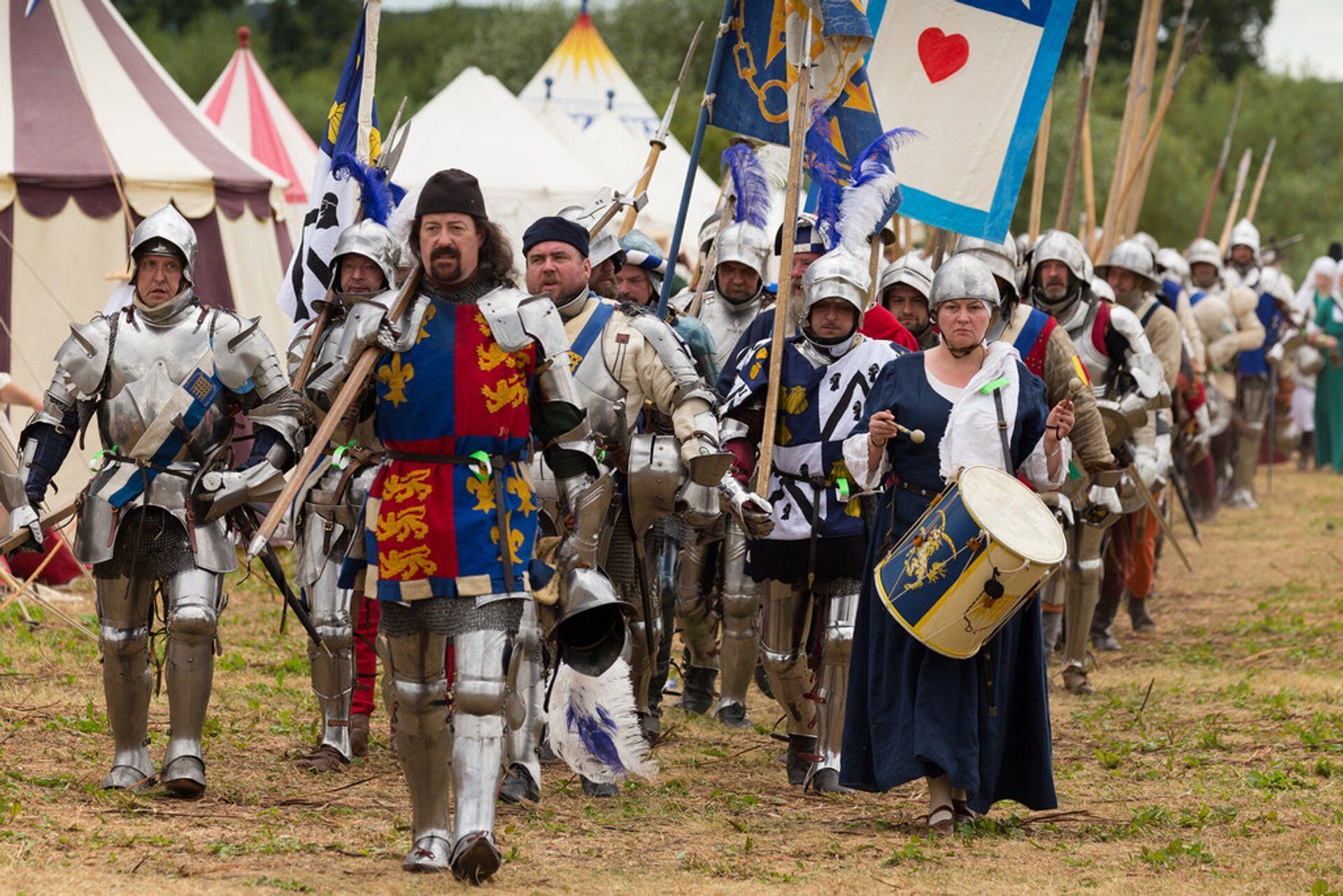 In 1984, a group of local eccentrics announced they were going to re-enact the Battle of Tewkesbury. It has grown to become the largest event of its kind in Europe.
Tewkesbury Medieval Festival is widely regarded as the biggest free Medieval gathering in Europe with over 2000 re-enactors and traders travelling from as far afield as France, Poland, Belgium, Spain, Italy, and Germany. Many live in full Medieval style for the weekend and welcome visitors to the living history camps around the battlefield, King Edward's camp on Windmill Hill, and Queen Margaret's camp in Bloody Meadow. The re-enactors cook over open fires, fettle their armour ready for battle, weave, sew, play Medieval board games, whittle spoons, and a myriad of other things. In our large Medieval market you can buy anything from a full harness of armour or cooking range to a bottle of mead or a leather belt. We also have a large exhibition tent where you will find displays from historical societies and an exhibition of Graham Turner's wonderful paintings which have featured on our posters for over 20 years. In the Bright Knight tent you will find Medieval inspired crafts and shows for our younger visitors. Medieval minstrels, jugglers, stilt walkers, friendly dragons, and bears wander around the festival site and there is a varied programme of events in the beer tent. On Sunday, join the people of Tewkesbury in a vibrant parade through the town. If you are a visitor to Tewkesbury, please take the time to look around.
The event is organised by a hardworking team of volunteers. The majority of the cost to run the festival comes from our visitors via a small car parking fee, bucket donations, and fees received from traders. A donation is always well received!